產品編號:A100003
Hydraulic Crimping Machine
Worshop Crimper YL-32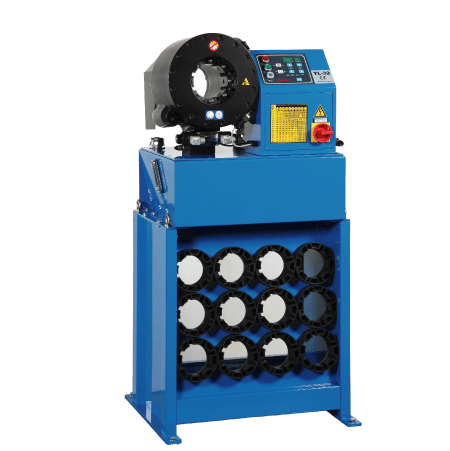 一般生產扣壓機
YL-20YL-20S和YL-32 適用於車間或一般五金店面使用。扣壓範圍從4mm至2''。
Our YL-32 2'' workshop crimping machine is generally used at the hardware store/ workshop.
The scope of crimping diameter are from 4mm to 2 inch, which the crimping force reach to 2200kN. We will be attached for 12 set standard dies set (10,13,16,19,22,26,30,39,45,52,64,69mm).
*For the maximum installation dies set can be attain to 78mm.
TECHNICAL DATA
| | | |
| --- | --- | --- |
| 最大扣壓管徑 | Max Hose Size | 2" |
| 扣壓範圍 ( mm ) | Crimping Range ( mm ) | ψ4…ψ87 |
| 模具型號 ( mm ) | Die Type | 32 |
| 模具擴張度 | Max. Opening ( mm ) | +32 |
| 主要模具長度 | Master Die ( Die / Length ) | 80 |
| 馬達 ( kW ) | Motor ( kw ) | 3.6 |
| 電壓 ( v ) | Voltage ( v ) | 220 / 440 |
| 泵浦 ( l/min ) | Pump ( l/min ) | 11.5 |
| 扣壓力 ( kN ) | Crimping Force ( kN ) | 2200 |
| 扣壓量 ( 每小時 ) | Crimping Hour | 1200 |
| 噪音值 ( dB(A) ) | Noise level ( dB(A) ) | 71 |
| 保護等級 | Protection Class | IP54 |
| 尺寸:長 ( mm ) | Size : Length ( mm ) | 680 |
|    寬 ( mm ) |    Width ( mm ) | 600 |
|    高 ( mm ) |    Height ( mm ) | 1400 |
|    重量 ( kg ) |    Weight ( kg ) | 270 |
STANDARD DIES SET SPEC
| | | | | | | | | |
| --- | --- | --- | --- | --- | --- | --- | --- | --- |
| Code | 32 | 32 | 32 | 32 | 32 | 32 | 32 | 32 |
| Dimension | 10 | 13 | 16 | 19 | 22 | 26 | 30 | 39 |
| Crimping Range | 10-13 | 13-16 | 16-19 | 19-22 | 22-26 | 26-30 | 30-39 | 39-45 |
| Length | 55 | 55 | 55 | 55 | 55 | 55 | 75 | 75 |
| | | | | | | | | |
| --- | --- | --- | --- | --- | --- | --- | --- | --- |
| Code | 32 | 32 | 32 | 32 | 32 | | | |
| Dimension | 45 | 52 | 57 | 64 | 69 | | | |
| Crimping Range | 45-52 | 52-57 | 57-64 | 64-69 | 69-74 | | | |
| Length | 90 | 90 | 100 | 100 | 100 | | | |
ACCESSORY
Quick Change

快速換模

Manual Change

手動換模

Back Stop Device

定尺裝置
VIDEO