產品編號:A100002
Hydraulic Crimping Machines
Workshop Crimper YL-20S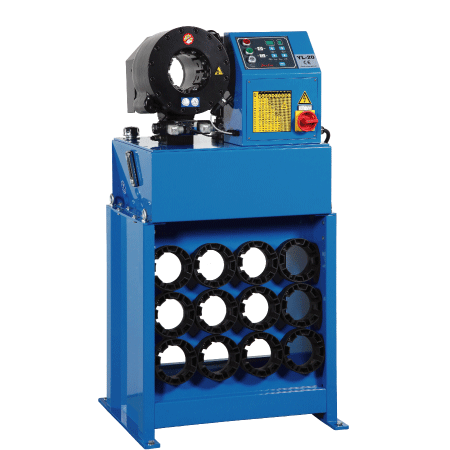 一般生產扣壓機
YL-20YL-20S和YL-32 適用於車間或一般五金店面使用。扣壓範圍從4mm至2''。
Our YL-20S is for 11/4'' workshop crimper which the crimping force attain to 1700kN, we will be attach the 9 set standard dies set from 14, 16, 19, 22, 26, 30, 34, 39, 45mm.
The user can be easily installed the standard dies set and subtly adjusted the dimension for their need on control panel.
Also easily use the quick change tool to changing the required dies set from die rack.
*For our YL-20/ YL-20S and YL-32 workshop crimpers can be installed in maximum 78mm dies set.
TECHNICAL DATA
| | | |
| --- | --- | --- |
| 最大扣壓管徑 | Max Hose Size | 1 1/4" |
| 扣壓範圍 ( mm ) | Crimping Range ( mm ) | ψ4…ψ87 |
| 模具型號 | Die Type | 32 |
| 模具擴張度 | Max.Opening ( mm ) | +26 |
| 主要模具長度 | Master Die ( Die / Length ) | 80 |
| 馬達 ( kW ) | Motor ( kW ) | 3.6 |
| 電壓 ( V ) | Voltage ( V ) | 220 / 440 |
| 泵浦 ( l / min ) | Pump ( l / min ) | 11.5 |
| 扣壓力 ( kN ) | Crimping Force ( kN ) | 1700 |
| 扣壓量 ( 每小時 ) | Crimping Hour | 1800 |
| 噪音值 ( dB(A) ) | Noise level ( dB(A) ) | 71 |
| 保護等級 | Protection Class | IP54 |
| 尺寸:長 ( mm ) | Size : Length ( mm ) | 680 |
|    寬 ( mm ) |    Width ( mm ) | 600 |
|    高 ( mm ) |    Height ( mm ) | 1350 |
|    重量 ( kg ) |    Weight ( kg ) | 230 |
STANDARD DIES SET SPEC
| | | | | | | | | |
| --- | --- | --- | --- | --- | --- | --- | --- | --- |
| Code | 32 | 32 | 32 | 32 | 32 | 32 | 32 | 32 |
| Dimension | 14 | 16 | 19 | 22 | 26 | 30 | 34 | 39 |
| Crimping Range | 14-16 | 16-19 | 19-22 | 22-26 | 26-30 | 30-34 | 34-39 | 39-45 |
| Length | 55 | 55 | 55 | 70 | 70 | 70 | 75 | 75 |
| | | | | | | | | |
| --- | --- | --- | --- | --- | --- | --- | --- | --- |
| Code | 32 | | | | | | | |
| Dimension | 45 | | | | | | | |
| Crimping Range | 45-51 | | | | | | | |
| Length | 90 | | | | | | | |
ACCESSORY
Quick Change

快速換模

Manual Change

手動換模

Back Stop Device

定尺裝置
VIDEO